Turnbull & Asser / What Is The "Turnbull Cut" Means
ナポリの歴史は古く、中世までさかのぼります。古くから高級織物や衣料品の産地として知られ、現在でも多くの職人技が受け継がれています。ナポリのシャツメーカーは、細部にまでこだわり、品質へのこだわりを持つことで知られています。コットン、シルク、リネンなど、最高級の素材のみを使用し、完璧なフィット感を実現するために伝統的なハンドステッチ技術を採用することも多い。
March – 2023 15 MINS READ
When I was young, I used to dream a lot about British culture. However, during my first visit to London, I noticed that the long-standing "British Disease" – a term used in the 1970s to describe economic and industrial decline – seemed to have eroded traditional culture. Nevertheless, as I learned more about the country, I realized that I had only scratched the surface. I now believe that traditions are not easily broken.
Turnbull & Asser Established 1895
Turnbull & Asser is unquestionably the finest shirt manufacturer in the world.
The business was founded in 1885 by John Arthur Turnbull, a hosier and shirt-maker, at 3 Church Place, St James's. Turnbull met Ernest Asser, a salesman, later on in 1893. Together, they opened a hosiery under the name "John Arthur Turnbull" in St James's located in England. As the neighborhood was the site of numerous gentlemen's clubs and high-end haberdashers, the business flourished. The name was changed to "Turnbull & Asser" in 1895.
The business was founded in 1885 by John Arthur Turnbull, a hosier and shirt-maker, at 3 Church Place, St James's. Turnbull met Ernest Asser, a salesman, later on in 1893. Together, they opened a hosiery under the name "John Arthur Turnbull" in St James's located in England. As the neighborhood was the site of numerous gentlemen's clubs and high-end haberdashers, the business flourished. The name was changed to "Turnbull & Asser" in 1895. After continued success,and  they received their first royal order by Queen Alexandra In 1904.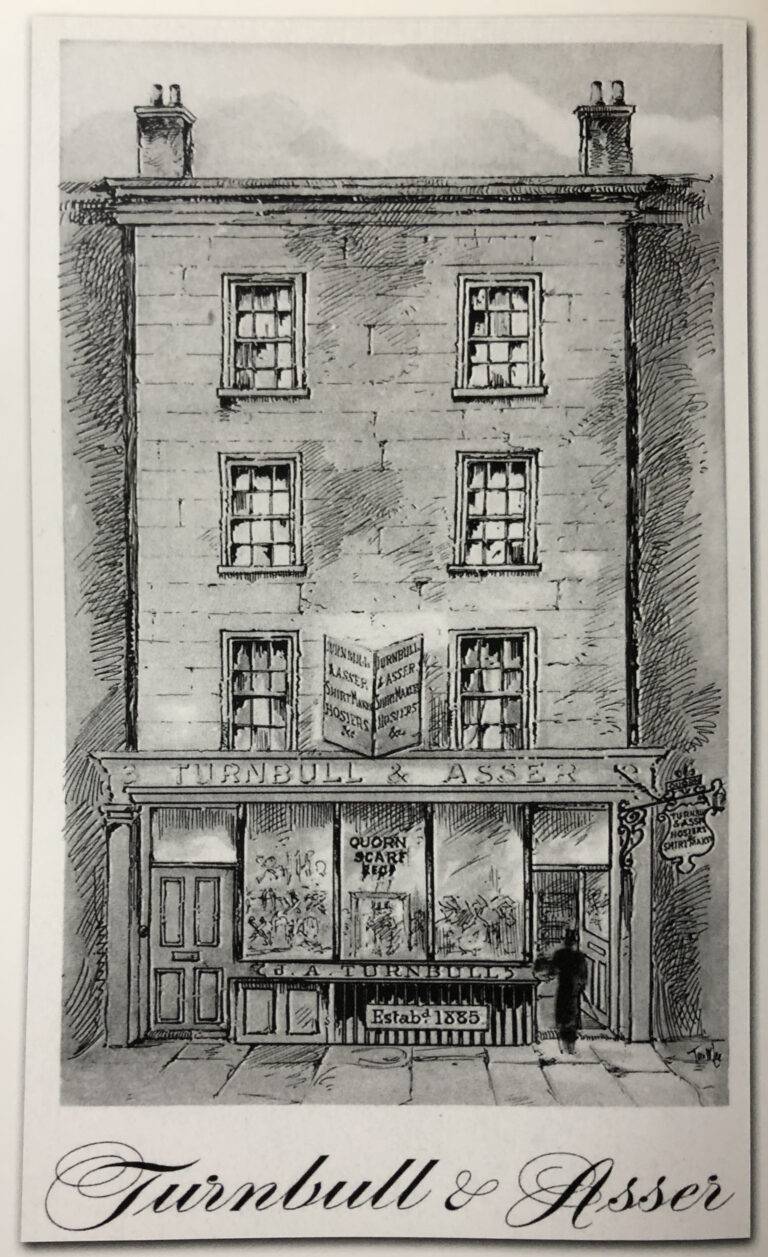 © Turnbull & Asser 125 years book
Queen Alexandra's horse riding coat was made by Turnbull & Asser in 1904. The coat was specifically designed for her to wear during her horseback riding outings, and it featured a tailored fit and a high collar to protect her from the elements. The coat was made from a durable and waterproof fabric, which was essential for outdoor activities. Queen Alexandra was known for her love of horse riding and was often photographed wearing this particular coat. The coat is now part of the Royal Collection Trust and can be viewed at the Fashion Museum in Bath, England.This led to Turnbull & Asser developing a relationship with the royal family.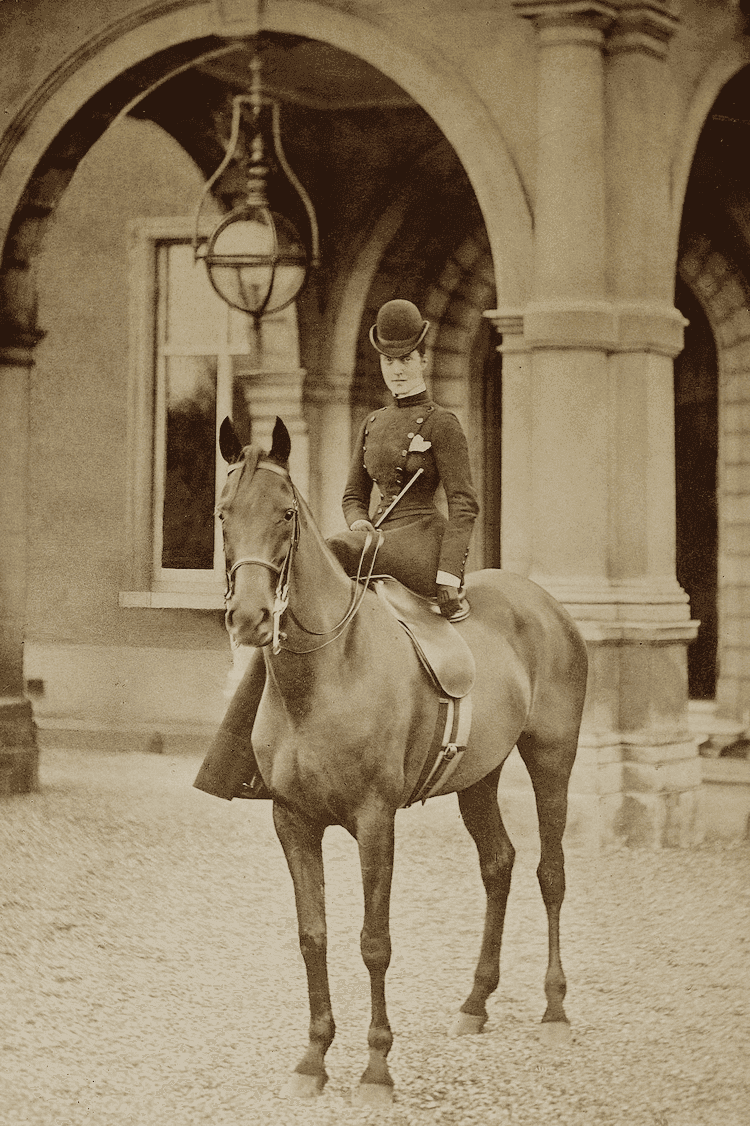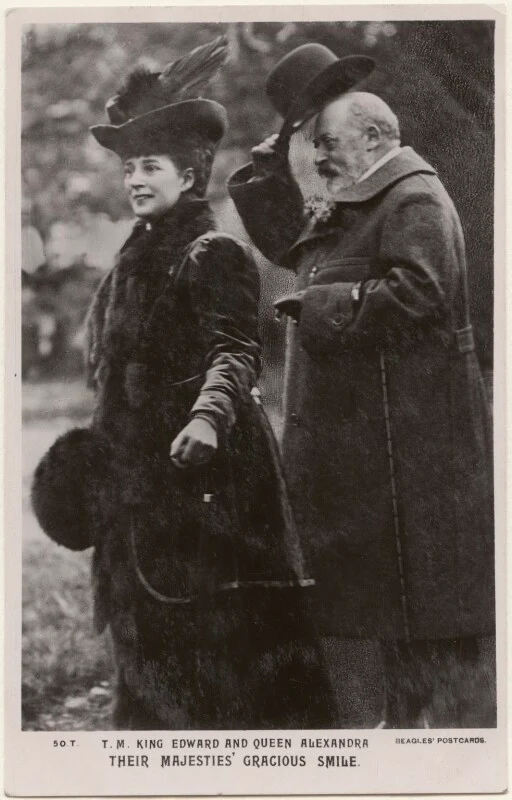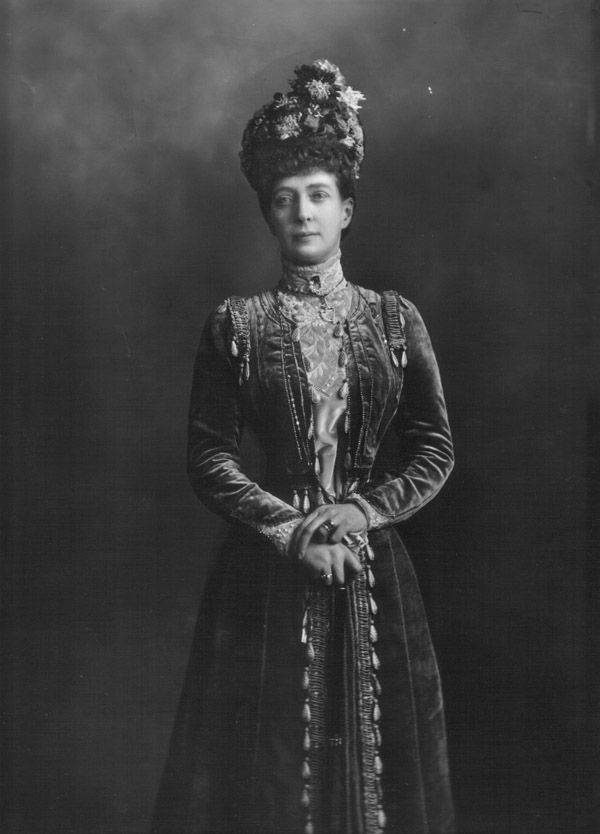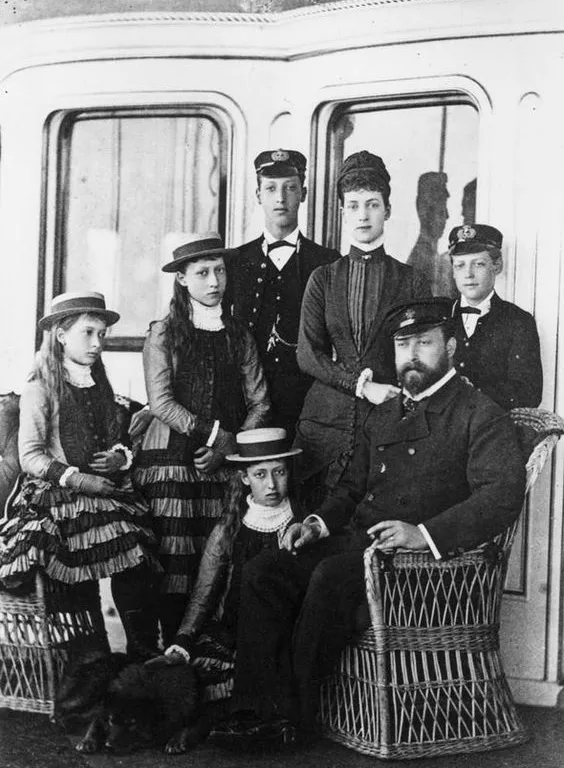 Turnbull & Asser moved to its present location at the corner of Jermyn Street and Bury Street. In 1915, during World War I, Turnbull & Asser developed a raincoat which doubled as a sleeping bag for the British military. It is known as the Oilsilk Combination Coverall & Ground Sheet. Between the 1920s and the 1970s, Turnbull & Asser grew its London business from a haberdashery to a clothier, expanding into sportswear, clothing (both bespoke and ready-to-wear), and ready-to-wear shirts. As its symbol, it used a hunting horn with a "Q" above, which it called the Quorn, a name it shares with one of the oldest hunts in England. Many of Turnbull & Asser's articles were called by this name, such as the popular "Quorn scarf".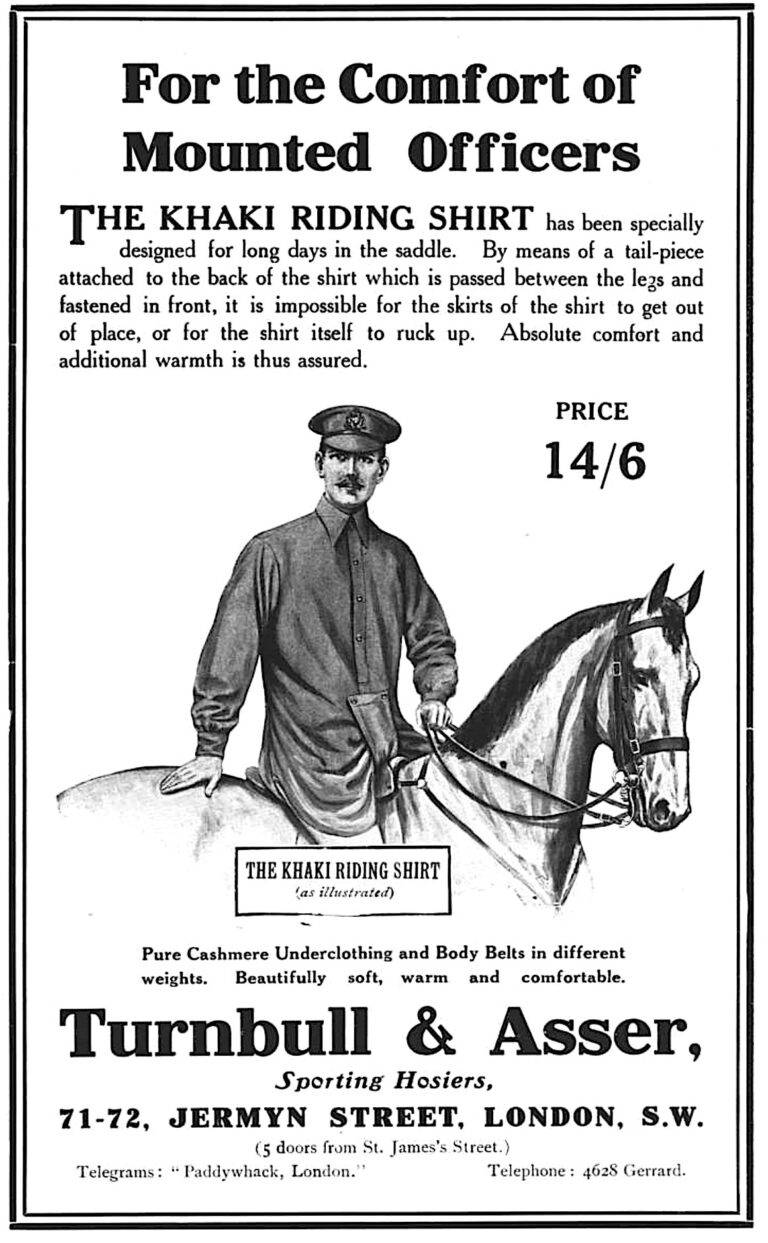 1915 THE KHAKI RIDING SHIRT AD by  Turnbull & Asser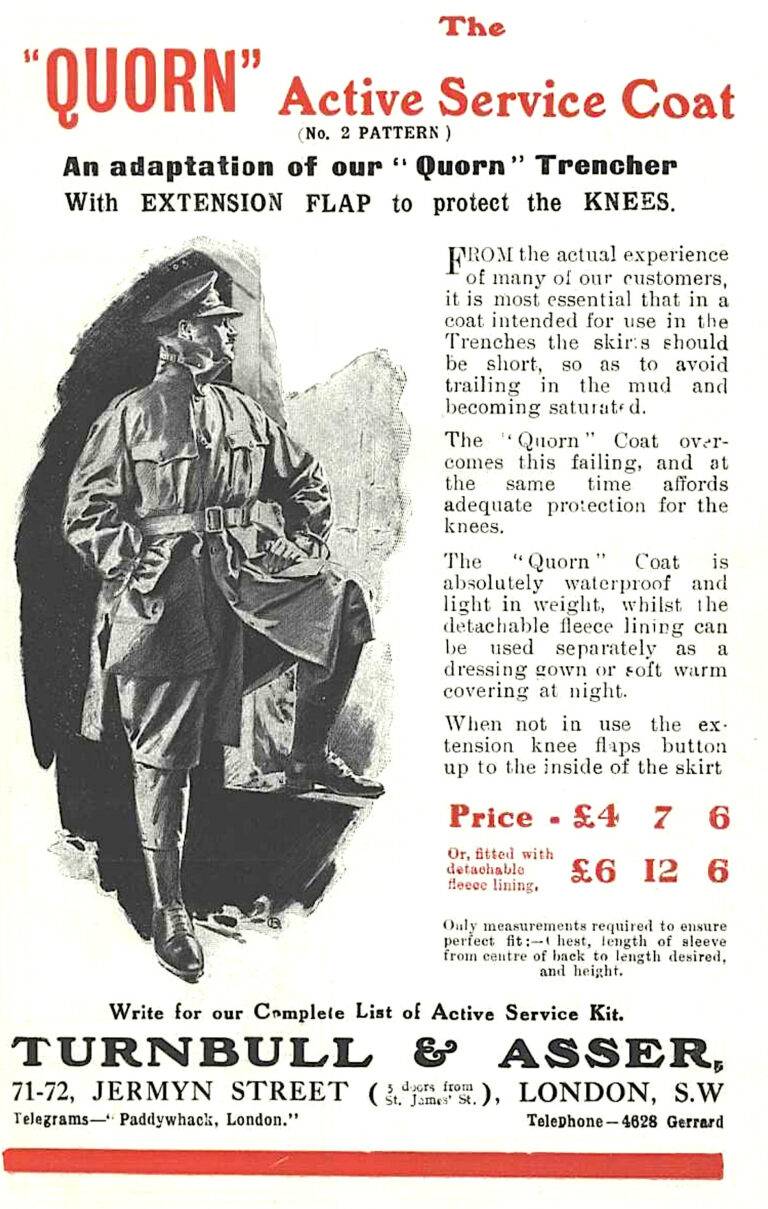 1917 QUORN ACTIVE SERVICE COAT AD by  Turnbull & Asser
British Recruits Joining Up (1914-1918)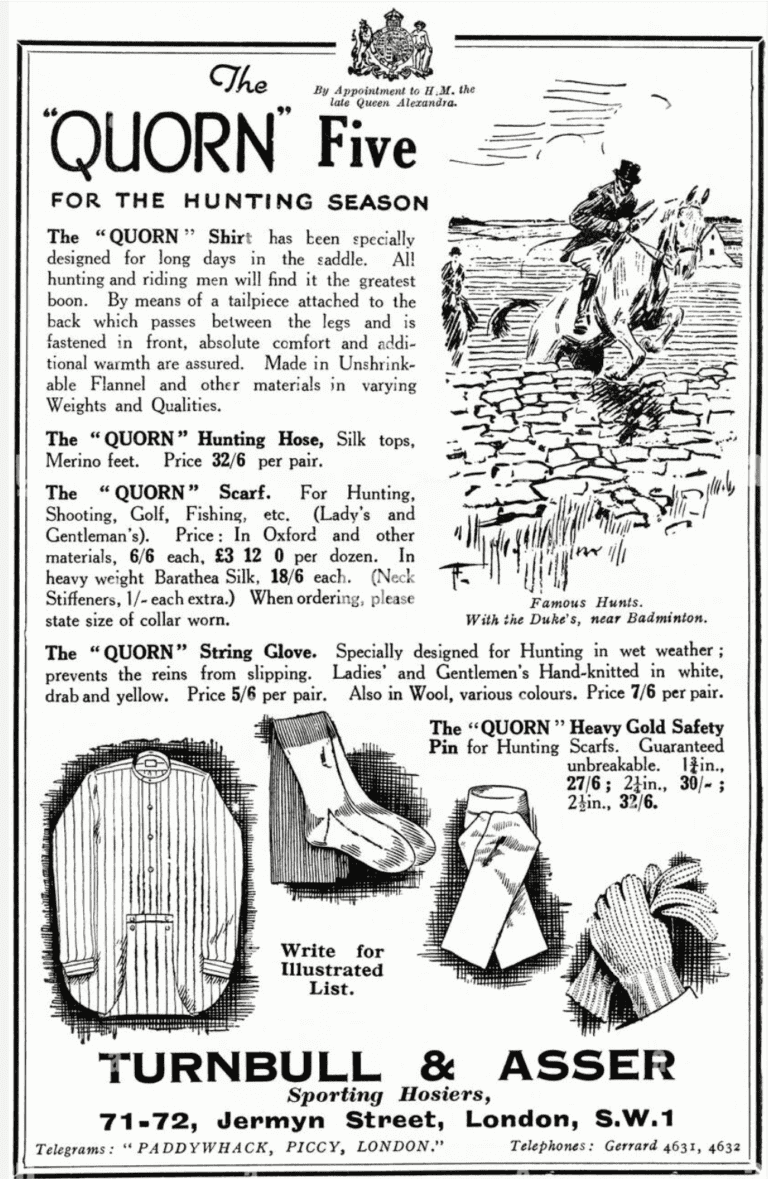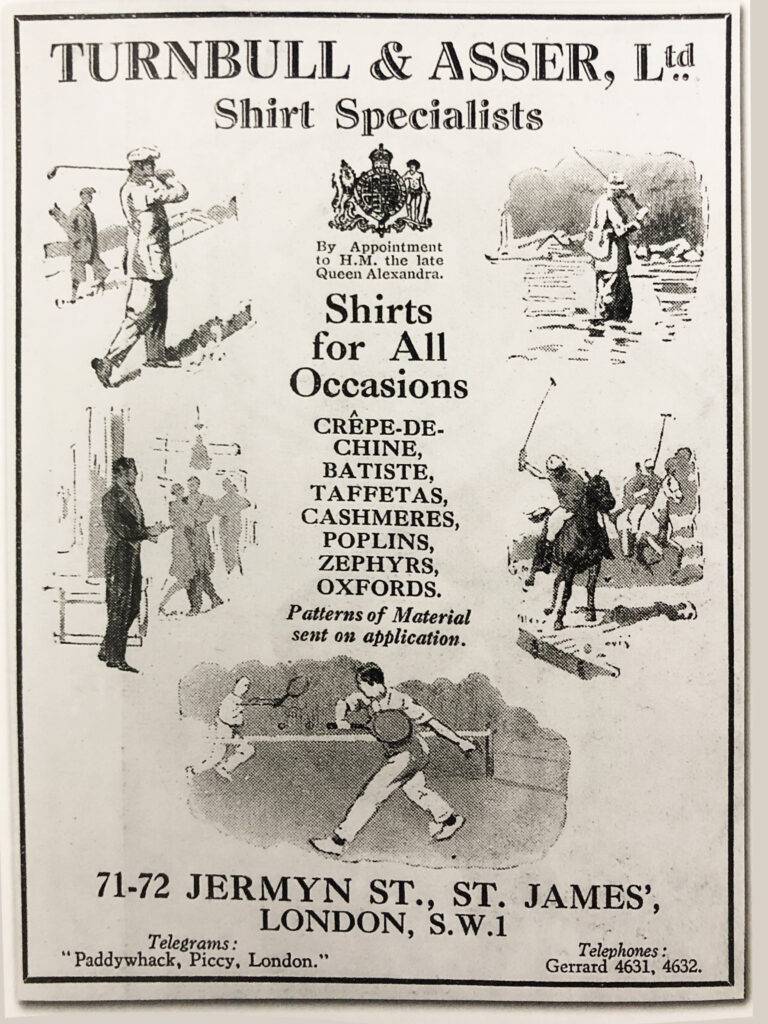 © Turnbull & Asser 125 years book
In the 1970s and 1980s, Turnbull & Asser began reviving some of the more traditional aspects of its business. The company found that Americans increasingly were buying its wares so it began offering trunk shows at the Grand Hyatt in New York City. Beginning in 1974, Turnbull & Asser sold ready-to-wear shirts in the United States through department stores Bonwit Teller and Neiman Marcus. For a brief period beginning in 1979, Turnbull & Asser even operated a small store in Toronto.
They have deep ties with the British royal family, starting with King Edward VII, who was famous as a dandy. Even today, the company is highly trusted, having received a Royal Warrant from Prince Charles(King Charles III), and Prince William wore the brand in his engagement photo.
Charles III has bought shirts from Turnbull & Asser since his youth. When, in 1980, the then Prince of Wales was granted the power of bestowing royal warrants, his first issue was granted to Turnbull & Asser.
So what is that collar shape that the Japanese call "TURNBULL CUT" means?
I think it means the "Turnbull & Asser collar", a way of cutting the collar.
Collar designed with a wide collar angle of almost 120° when buttoned closed. The expression when the tie is closed is reminiscent of an English gentleman. The outside of the collar is cut in the shape of an "S-Line" and the tip of the collar is designed to tuck inwards. This shape prevents the shirt collar from popping outwards when the jacket is worn over it, giving the impression that it is always tight.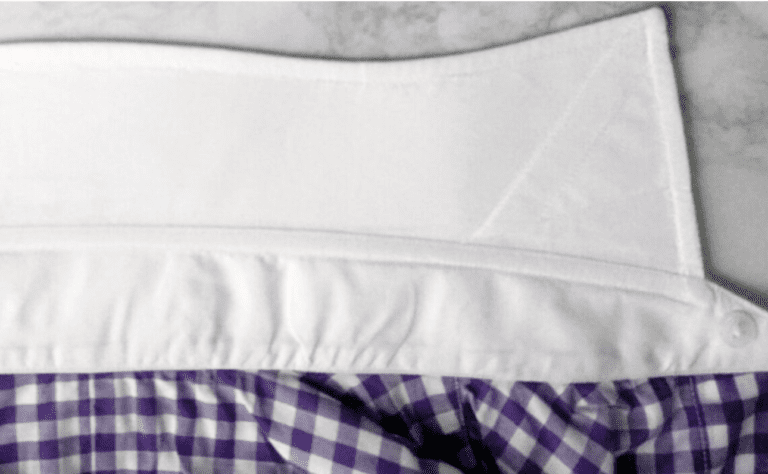 But the important thing is that the first half of collar has a beautiful arch the collar rolled with the outside of  tie, then the tip of the sword must not extend beyond the jacket. The side of collar from the collarbone to the shoulder, it should not be a straight line so that there is less strain. and back of neck side should be supported firmly and without strain on the neck. The following are some of the objectives (see diagram below). The three-dimensional pattern is considered to be adopted for these reasons. This S-curved shape is probably called a 'turnbull cut' in Japan. From a production point of view, when sewing on a sewing machine, it is more efficient and less error-prone to sew in a straight line as far as possible, which is preferred. In other words, it takes a skilled craftsman to sew a collar like this.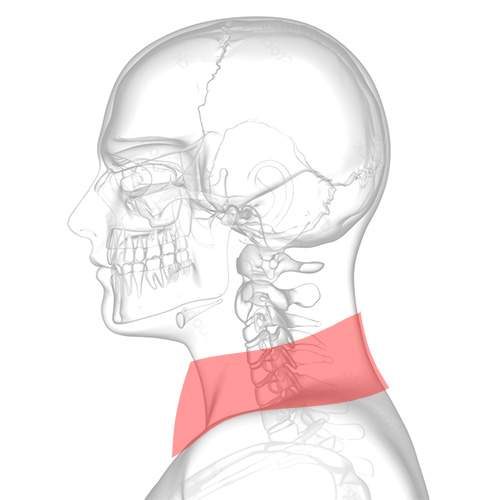 The red part of this collar shape is used as an extreme picture.
Before I proceed, I must mention something unfortunate. It appears that only the Japanese refer to it as the 'Turnbull Cut.' It seems that Japanese writers have taken the liberty of giving it a name of their own, as is often the case. I have checked my vintage collections, and it turns out that Turnbull & Asser did not create the 'Turnbull Cut' in the 1960s. Instead, it is believed that this particular collar shape was developed more recently, with the 'Classico Italia' trend in the 1990s having a particularly strong influence on it. It's possible that Italy was also influenced by the UK in reverse. However, it's certain that the two countries were in close proximity during this period. It's worth noting that the same collar shape can be found on wool blend shirts supplied to the British Army in the 1950s to 1960s, indicating that it's not an exclusive T&A design.
According to their explanation, 'The collar has a gentle S-shaped line from the collar to the tip of the sword, preventing the collar from protruding from the lapel area of the jacket. The collar is designed to maintain its beautiful shape even when no tie is worn. It has a strong and thick core, which helps keep the collar looking crisp and gives a beautiful silhouette around the neck.' Turnbull & Asser claims that this collar type was designed by them in the 1930s when they started making readymade shirts and has remained the basis of their range ever since. Although many Japanese fashion magazines describe it as such, it's difficult to determine whether T&A is the original source, as fashion trends change over time.T&A's 1920s WW1 advertising illustrations do feature a curved collar shape. However, it is also clear that other companies, like famous Arrow Shirt in usa , sold similar collar styles in usa 1910-20s.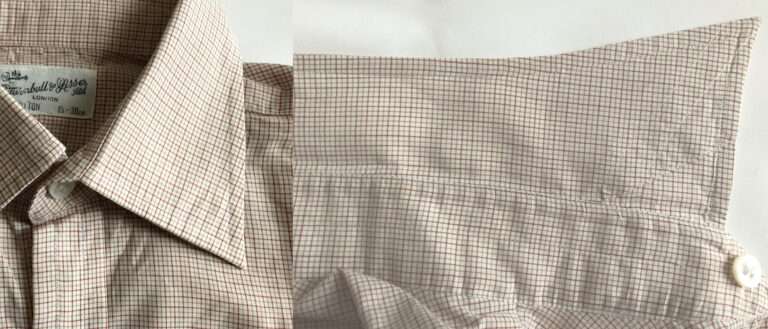 60s~70s? Turnbull & Asser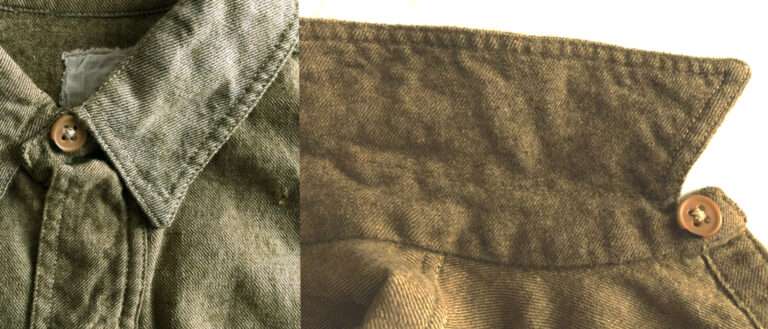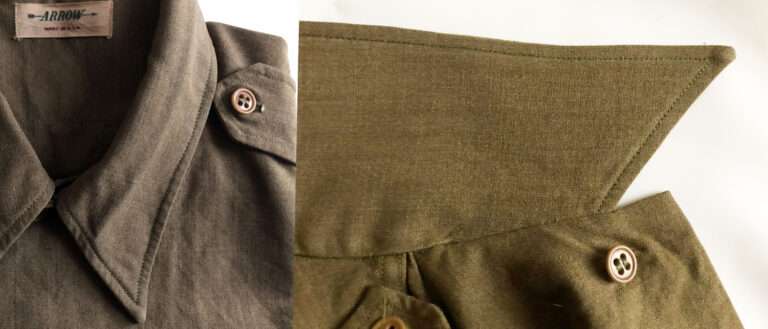 sartoria attolini made by Anna Matuozzo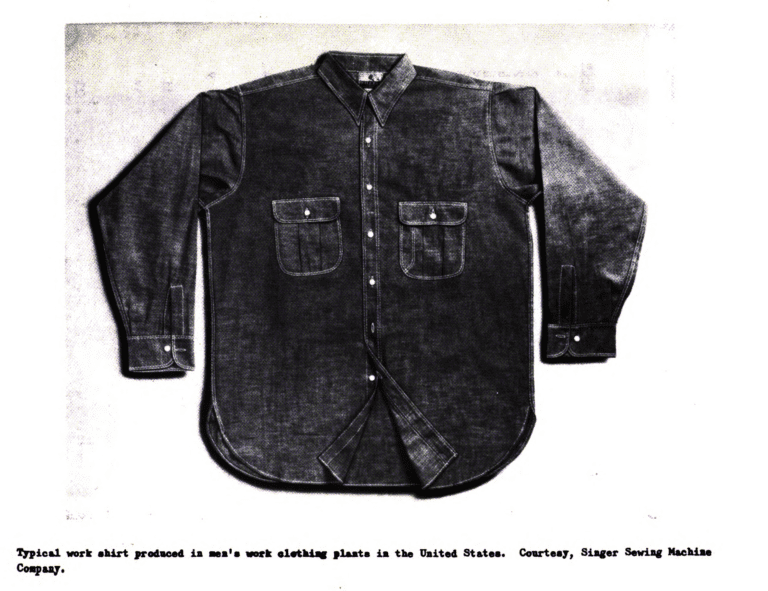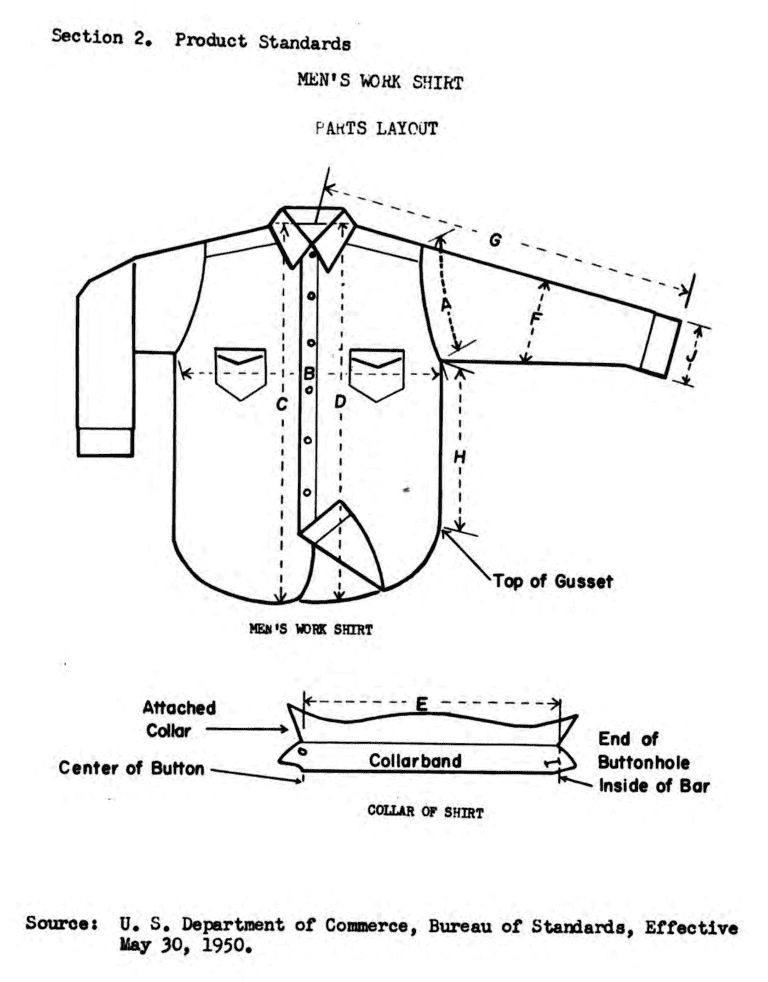 © Case study data on productivity and factory performance/MEN'S WORK SHIRTS 1951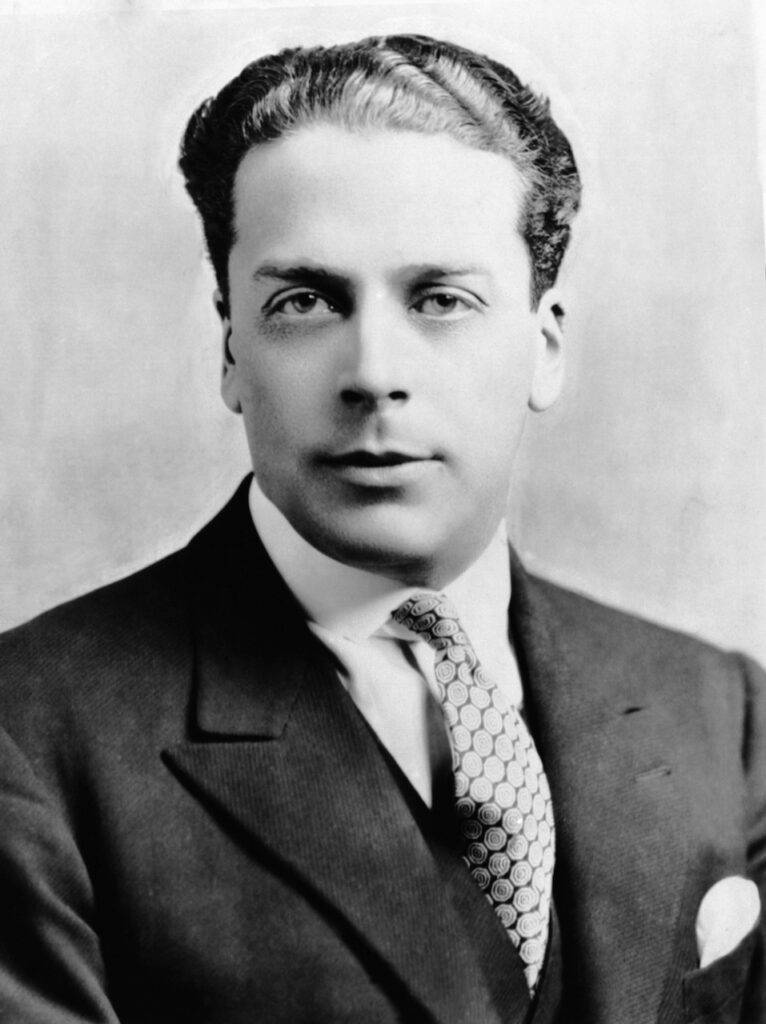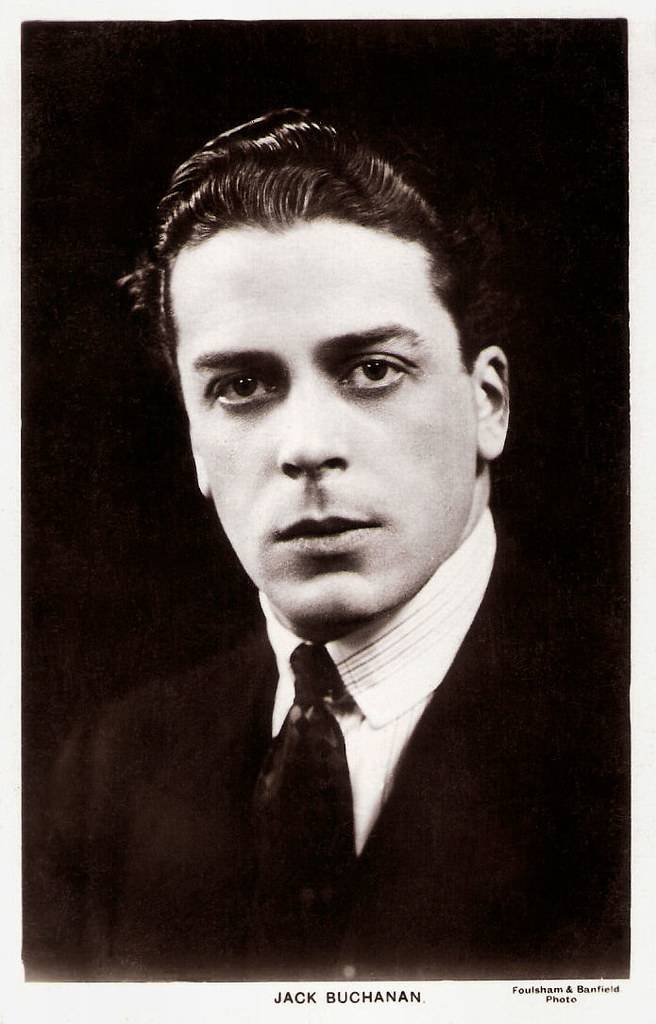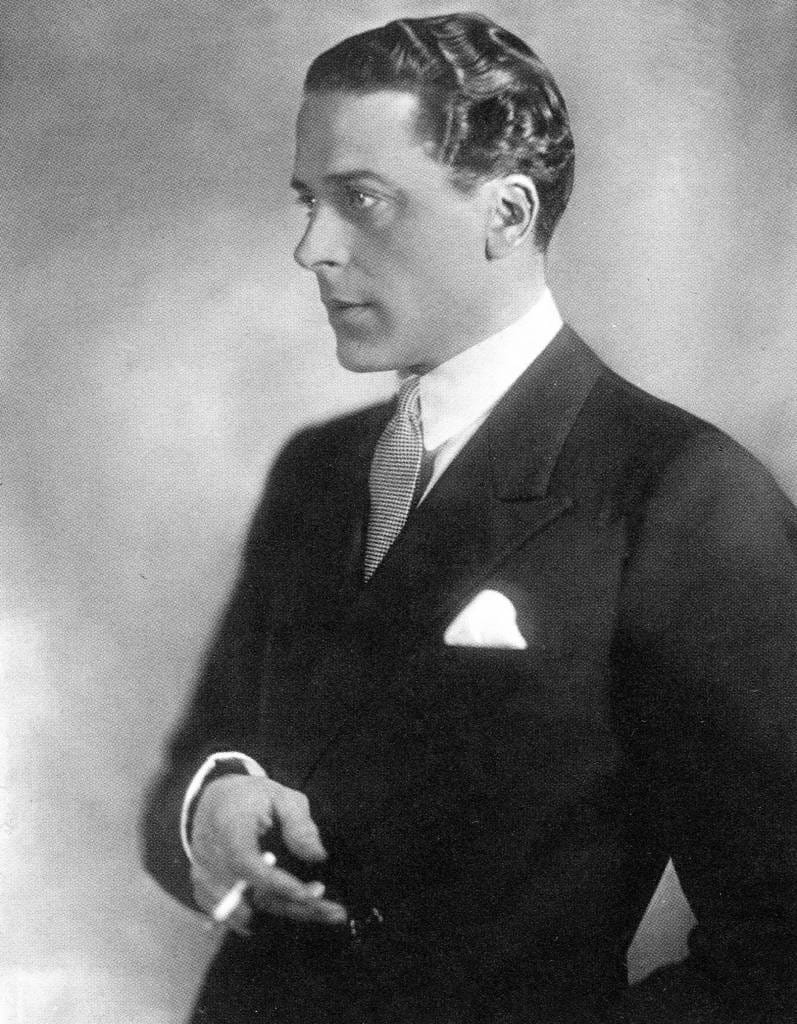 When Jack Buchanan was on stage, his costume was the Turnbull & Asser (shirt). This was the beginning of the so-called coloured shirt in men's fashion. However, looking at his photographs, the collar does not appear to be curved.
Jack Buchanan was a Scottish actor, comedian, and singer who rose to fame in the early 1900s as a music hall performer. Born in Helensburgh, Scotland, in 1890, Buchanan was the son of an auctioneer and was educated at the Glasgow Academy.
After trying his hand at his father's profession and failing as an actor in Glasgow, Buchanan moved to London and began performing as a music hall comedian under the name Chump Buchanan. He eventually changed his stage name to Jack Buchanan and made his West End debut in 1912 in the comic opera The Grass Widow. Despite experiencing some hardship early on in his career, Buchanan achieved fame while on tour in 1915 in Tonight's the Night and went on to produce and act in his own plays in both London and New York City.
Buchanan's health was not robust, and he was deemed unfit for military service during the First World War. He continued to perform in West End shows during the war and achieved front-rank stardom in André Charlot's 1921 revue A to Z, appearing alongside Gertrude Lawrence. One of his signature songs, Ivor Novello's "And Her Mother Came Too," was featured in the show. The revue transferred successfully to Broadway in 1924.
Throughout the 1920s and 1930s, Buchanan was known for his grace, charm, and talent as a singer, dancer, and comedian. He starred in numerous musicals and was praised for his elegant gestures, friendly drawling voice, and general air of having a good time. During the Second World War, Buchanan starred in his own musical production It's Time to Dance, which was based on a book by Douglas Furber and L. Arthur Rose and staged at the Lyric Theatre on Shaftesbury Avenue in London.
Jack Buchanan had a successful career in both stage and film. He made his film debut in 1917 during the silent cinema era and went on to appear in around thirty-six films throughout his career. In 1938, he achieved a unique accomplishment by starring in the London stage musical This'll Make You Whistle while simultaneously filming a movie version. The two productions competed with each other, and the film was released while the stage version was still running. Some of his other notable film roles included Monte Carlo (1930), Smash and Grab (1937), and The Gang's All Here (1939).
In addition to acting, Buchanan also produced several films, including Happidrome (1943) and The Sky's the Limit (1938), which he also directed. He continued to work on both Broadway and the West End and appeared in several Hollywood musicals. His most famous film role was in The Band Wagon (1953), in which he played the camp theatre director Jeffrey Cordova opposite Fred Astaire and Cyd Charisse. Despite suffering from spinal arthritis, Buchanan performed several dance numbers in The Band Wagon with Astaire.
In addition to acting, Buchanan also produced several films, including Happidrome (1943) and The Sky's the Limit (1938), which he also directed. He continued to work on both Broadway and the West End and appeared in several Hollywood musicals. His most famous film role was in The Band Wagon (1953), in which he played the camp theatre director Jeffrey Cordova opposite Fred Astaire and Cyd Charisse. Despite suffering from spinal arthritis, Buchanan performed several dance numbers in The Band Wagon with Astaire.
Buchanan's American stage appearances included: André Charlot's Revues, Charles B. Cochran's Wake Up and Dream, Pardon My English, Between the Devil and Harvey (1948).
Film & Radio , television
Buchanan's Hollywood films included Paris, The Show of Shows (1929), Monte Carlo (1930) and The Band Wagon (1953). His British films included Yes, Mr Brown (1933), Goodnight, Vienna (1932), That's a Good Girl (1933), Brewster's Millions (1935), Come Out of the Pantry (1935), When Knights Were Bold (1936), This'll Make You Whistle (1936), Smash and Grab (1937), The Sky's the Limit (1938), Break the News (1938), The Gang's All Here (1939), The Middle Watch (1940), Bulldog Sees It Through (1940), As Long as They're Happy (1955) and Josephine and Men (1955). He made one French film (bilingual), The Diary of Major Thompson (1955).
Buchanan was a frequent broadcaster on British radio, especially during the Second World War. Programmes included The Jack Buchanan Show and, in 1955, the hugely popular eight-part series Man About Town. On 12 June 1928, Buchanan participated in the first-ever transatlantic television broadcast. It was conducted by Scottish engineer John Logie Baird, an important figure in the technological development of television. At the time, the few television sets that existed had been custom-built by engineers and were not available for purchase by the general public in the United Kingdom or the United States.American television shows on which Buchanan appeared during the era of stores selling television sets included Max Liebman's Spotlight in 1954 and The Ed Sullivan Show.
In a British tradition of actor-management, Buchanan frequently produced his own shows, many of which were premiered in the Alhambra Theatre, Glasgow. He was also heavily involved in the more commercial side of British show business. He was responsible, with partners, for the building and ownership of the Leicester Square Theatre, London, and the Imperial in Brighton. He also controlled the Garrick Theatre in the West End of London and the King's Theatre in Hammersmith. Jack Buchanan Productions (in which his partners were J. Arthur Rank and Charles Woolf) owned Riverside Studios in Hammersmith. He had been at school with the pioneer of television John Logie Baird and with him co-owned Television Limited, which manufactured and rented televisions. Not all his business ventures were profitable, and at his death his estate was valued for probate (in 1958) at £24,489 (equivalent to £609,000 today).
It is important to note that if stage costume designers had not ordered colorful costumes from Turnbull & Asser, shirts would never have been produced in anything other than white or cream. It is possible that the "Peacock Revolution" of the 1960s would not have existed as well.
Sir Winston Leonard Spencer Churchill (English: Sir Winston Leonard Spencer Churchill, 30 Nov 1874 – 24 Jan 1965). He was an undisputed leading British politician, army soldier and author.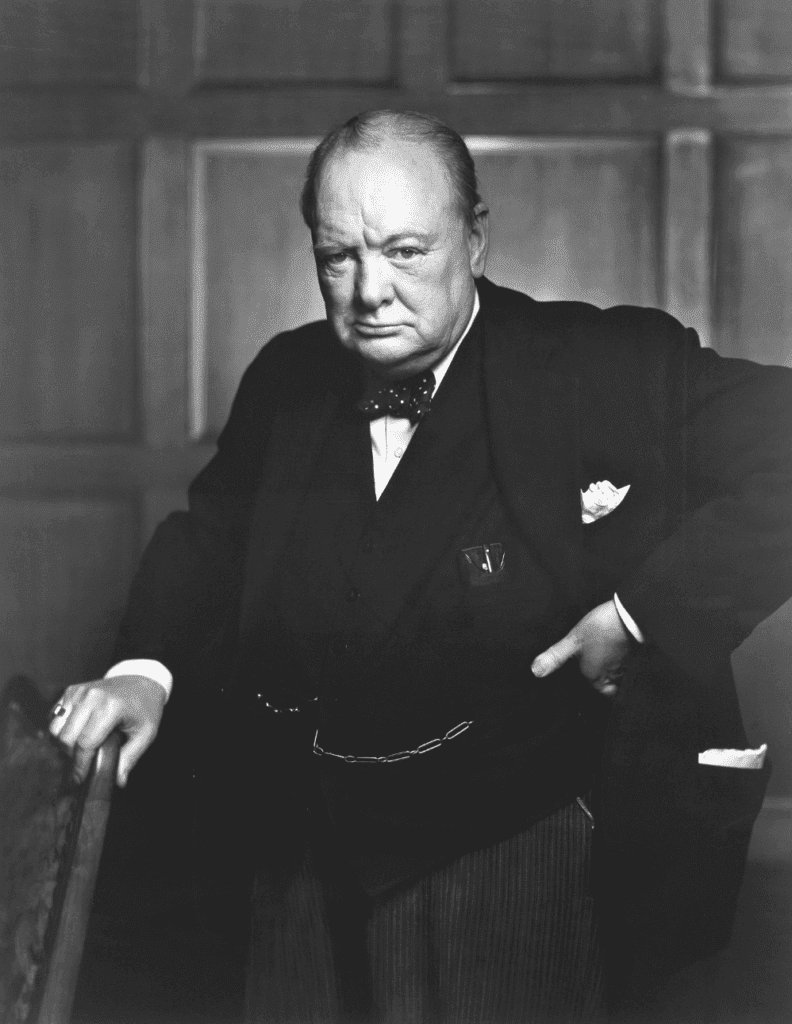 The Roaring Lion, a portrait by Yousuf Karsh at the Canadian Parliament, 1941 ©wikipedia commons
Winston Churchill (1874-1965) was a British statesman who played a pivotal role in leading Britain through World War II. He was born into a prominent political family and served in the British Army, as well as in various government positions, including as First Lord of the Admiralty, Chancellor of the Exchequer, and Prime Minister. Churchill is best known for his leadership during World War II, where he inspired the British people with his powerful speeches and unwavering determination to defeat Nazi Germany. He was also instrumental in forming the Allied powers and strengthening their cooperation, leading to their eventual victory.
Beyond his wartime leadership, Churchill was an accomplished writer, publishing numerous books and articles throughout his life. He was awarded the Nobel Prize in Literature in 1953 for his body of work, which included memoirs, histories, and even a novel. Churchill's legacy continues to inspire admiration and debate. Some consider him one of the greatest leaders in British history, citing his steadfast leadership during times of crisis and his contributions to the Allied victory in World War II. Others criticize his actions and policies, particularly in regards to imperialism and social issues. Regardless, his impact on British and world history is undeniable.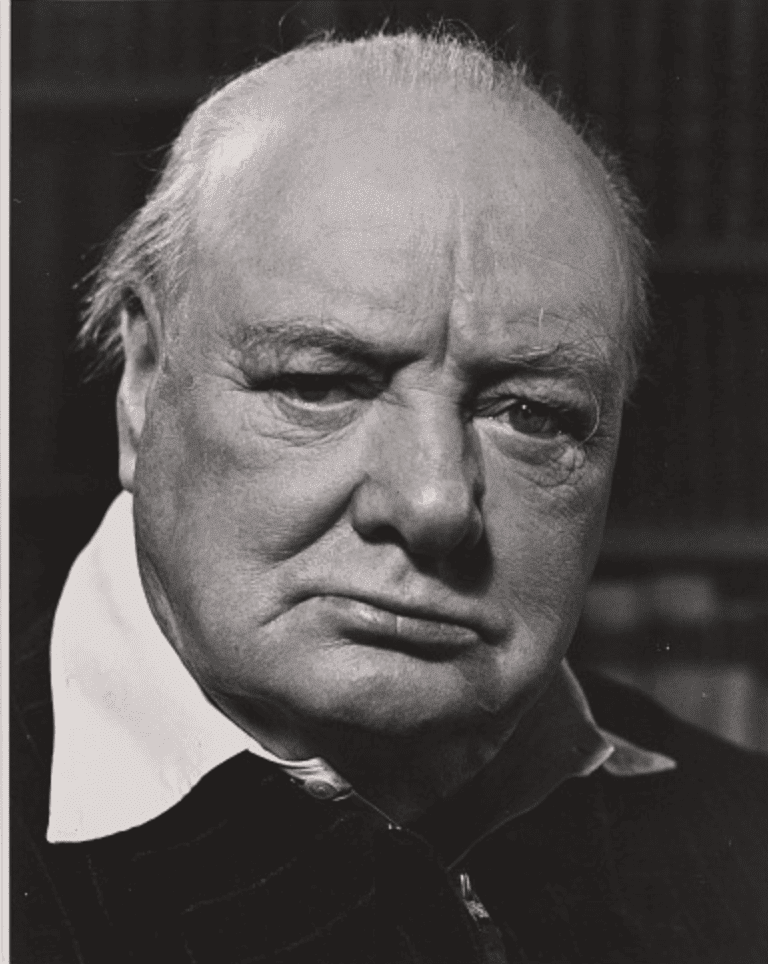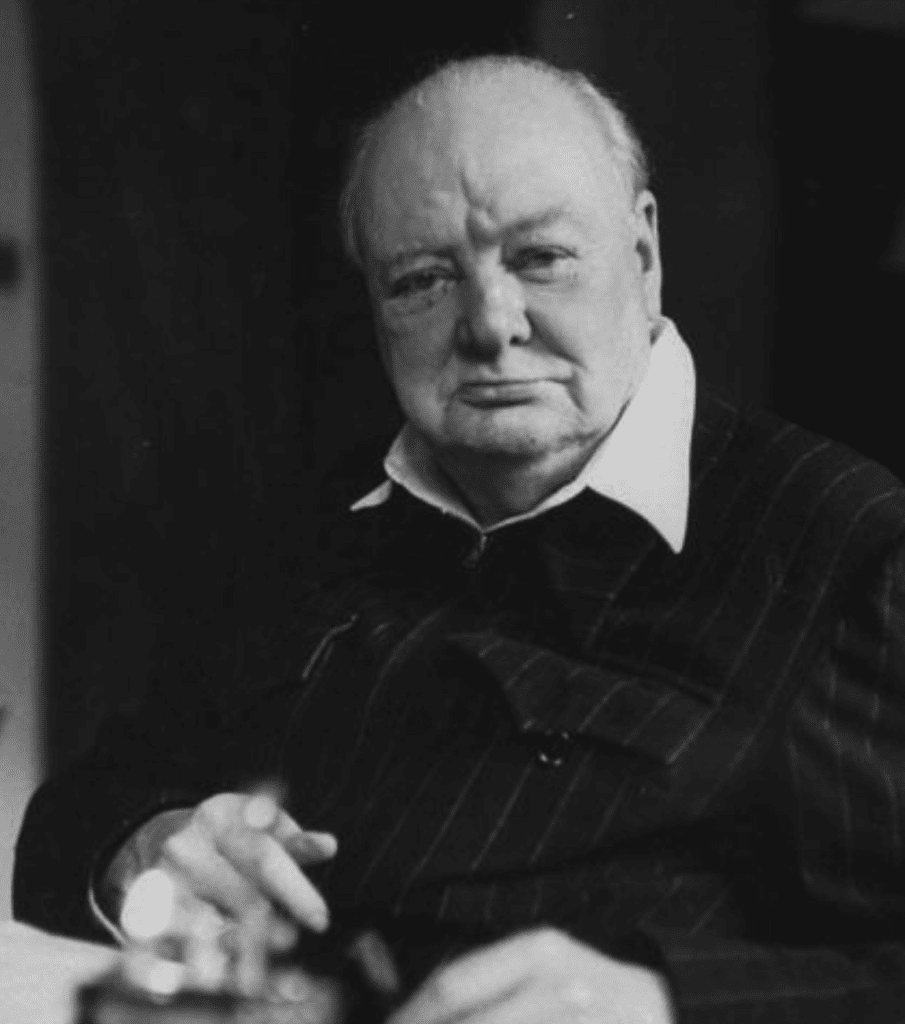 Winston Churchill 1953 © Philippe Halsman © National Portrait Gallery
In fact, he was always dressed like a very British gentleman (without during WW2), so not much is available to confirm the shape of his shirt collar.The only few that remain can confirm this, but opinions differ as to whether this should be seen as a traditional shape made by Turnbull & Asser origin or the fashion of the time. However, the photos show that the collars of the shirts ordered have a beautiful curve.
What does it look like to you?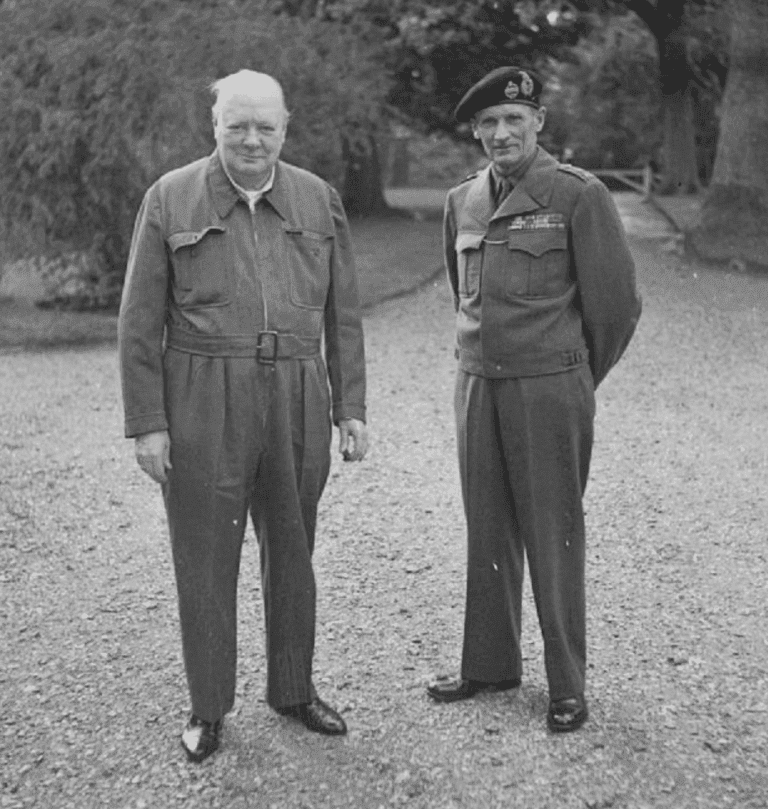 Churchill wears his siren suit in meeting with General Montgomery
Winston Churchill had a fondness for uniforms, but when it came to his personal style, he favored practicality and zippers. His favorite suit was not a uniform, but a "siren suit" he designed himself, which his children called his "rompers." Although it was designed for quick dressing during air raids, Churchill actually created it before World War II, inspired by the boiler suits worn by his fellow bricklayers at Chartwell. Churchill's siren suit was generously cut with breast and side pockets, pleated trouser fronts, and fold-over cuffs, emphasizing its simplicity and comfort. Turnbull & Asser, bespoke tailors, made several versions of it for him in various fabrics for different occasions. For dressier events, he had suits in red, green, and blue velvet, a business-like blue serge for formal occasions, and one made of smock material for painting. It's intriguing to see how Churchill used his fashion choices to express himself and adapt to different situations.
Louis Francis Albert Victor Nicholas Mountbatten, also known as Lord Mountbatten, was a British naval officer, statesman, and member of the royal family. He was born on June 25, 1900, and was the youngest child of Prince Louis of Battenberg and Princess Victoria of Hesse and by Rhine.During World War II, Mountbatten served as a high-ranking officer in the British Armed Forces and was appointed as Supreme Allied Commander of South East Asia Command. After the war, he continued his career in the military, serving as First Sea Lord and Chief of the Defence Staff in the 1950s and 1960s.
In addition to his military career, Mountbatten also played a significant role in the politics of post-war Britain. He served as Governor-General of India from 1947 to 1948, overseeing the country's transition to independence from British rule. He was also a strong advocate for European unity and served as President of the European Movement from 1948 to 1952.
Mountbatten was a beloved member of the British royal family and was particularly close to his cousin, Queen Elizabeth II. He was also a mentor to Prince Charles (now Charles Ⅲ) and played a significant role in his education and development as a future monarch.Tragically, Mountbatten was assassinated by a bomb planted on his fishing boat by members of the Provisional Irish Republican Army (IRA) on August 27, 1979, off the coast of County Sligo, Ireland. The attack also claimed the lives of his grandson, Nicholas Knatchbull, and two others.
In terms of fashion, Lord Mountbatten was known for his impeccable style and his love for tailored suits. He was often seen wearing suits that were well-tailored and made from high-quality materials. Lord Mountbatten was also known for his love of military attire, and he often wore military-style jackets and coats. Lord Mountbatten was also known for his signature style, which included a white silk scarf and a pair of white gloves. This became known as the "Mountbatten look," and it was a style that was emulated by many men in the 1950s and 1960s.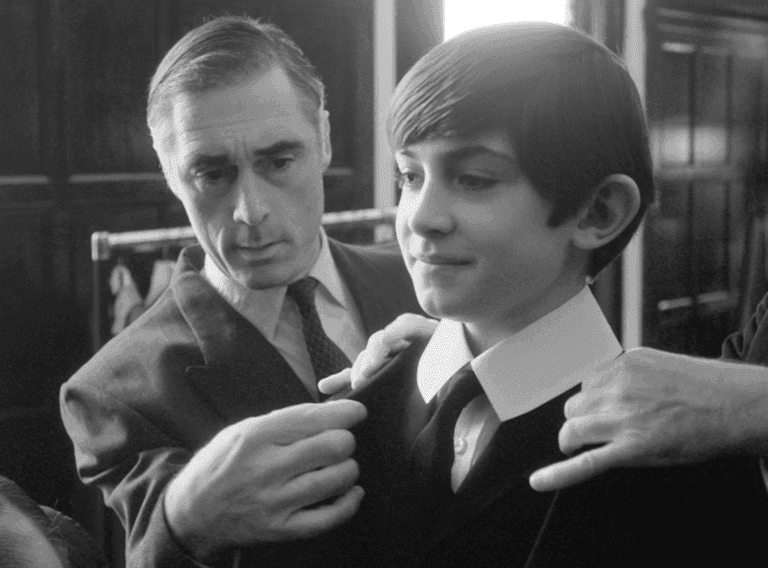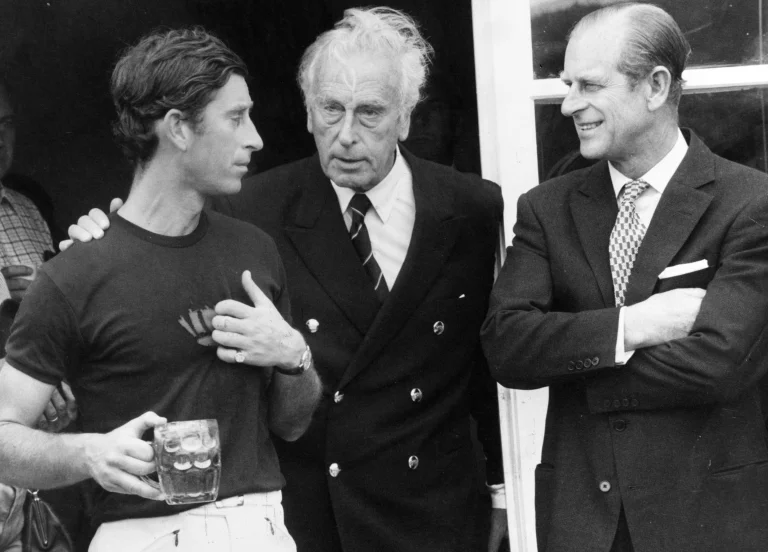 Lord Mountbatten was Charles 3's great-uncle, and he played a significant role in Charles' life and fashion. Lord Mountbatten was a mentor and advisor to Charles, and he helped guide him through various stages of his life, including his military career and his transition into royal duties.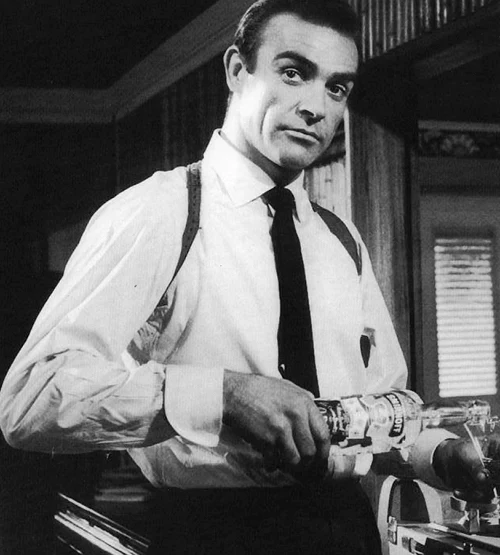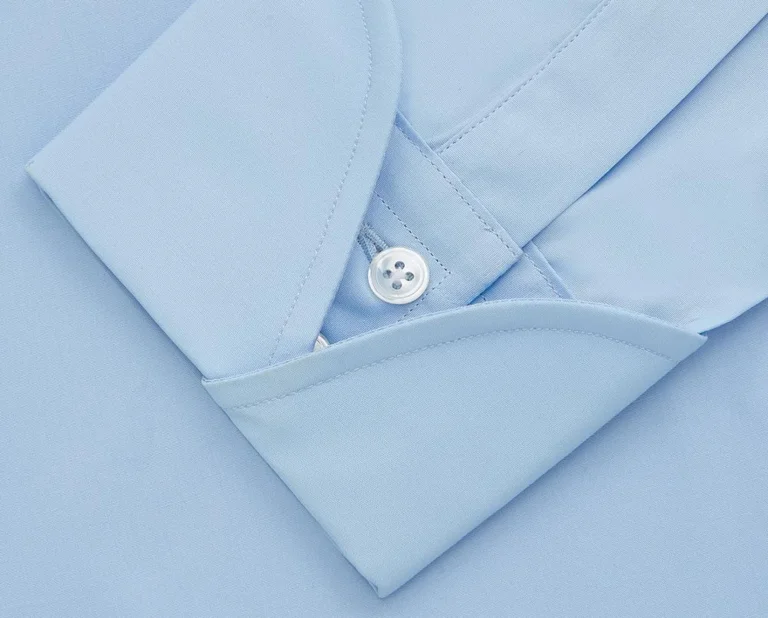 Turnbull & Asser has been a longtime collaborator and supplier of clothing for the James Bond film franchise. In particular, the company is known for providing bespoke shirts and accessories for the iconic secret agent character, played by various actors over the years.
The collaboration began with the film "Dr. No" in 1962, in which Sean Connery wore a Turnbull & Asser shirt. Since then, the company has continued to supply clothing for subsequent Bond films, including Pierce Brosnan's "Tomorrow Never Dies" and Daniel Craig's "Casino Royale," "Quantum of Solace," and "Skyfall." Turnbull & Asser's contributions to the Bond franchise have helped to cement the brand's reputation for quality craftsmanship and attention to detail. 
In addition to providing clothing for the films, Turnbull & Asser has also released a line of James Bond-inspired clothing, including shirts and accessories that reflect the style and sophistication of the character. The collection includes classic dress shirts, silk ties, and cufflinks, among other items, all made with the same attention to detail and quality that the company is known for.
The Turnbull & Asser "Cocktail Cuff" is a unique and distinctive cuff style that was specifically designed for James Bond in the film "Dr. No". The cuff was created to accommodate the character's habit of wearing a watch with a large face, which would not fit comfortably under a traditional shirt cuff. The Cocktail Cuff features a larger opening than a standard shirt cuff, allowing the wearer to slip their watch underneath. The cuff also features a single button closure and a subtle curve that echoes the shape of a cocktail glass.The Cocktail Cuff quickly became a signature style for James Bond, and has since become a popular option for Turnbull & Asser customers looking for a stylish and practical alternative to traditional shirt cuffs. The company offers the Cocktail Cuff in a range of fabrics and colors, and it has become one of their most iconic and recognizable designs.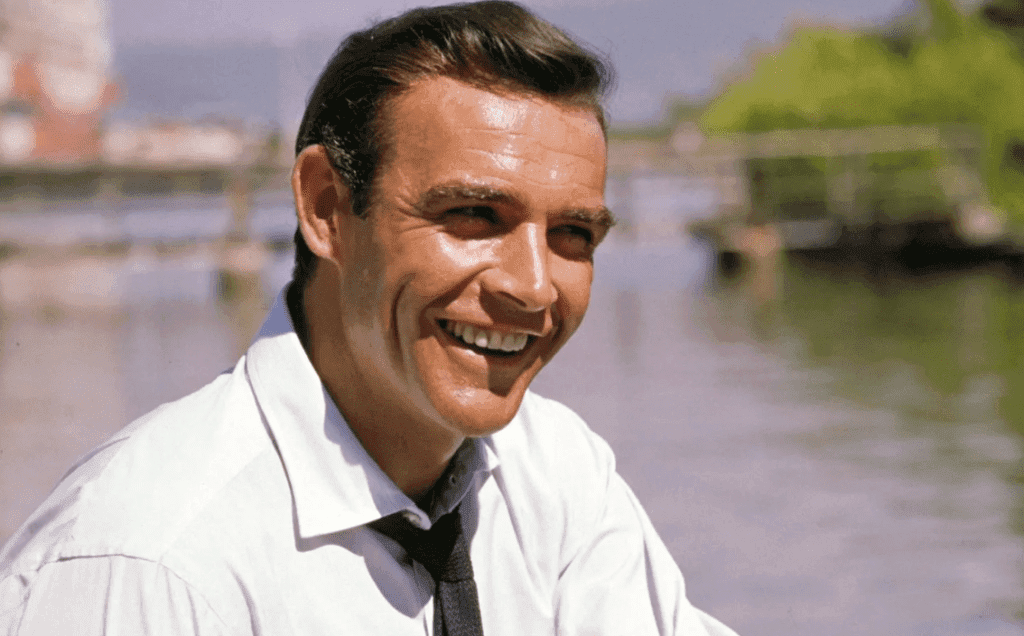 Doctor Zhivago(1965) & The Great Gatsby(1974)
Both Doctor Zhivago (1965) and The Great Gatsby (1974) had costume design involvement from Turnbull & Asser, a British shirtmaker known for their high-quality bespoke shirts. For Doctor Zhivago, Turnbull & Asser provided a selection of shirts and accessories. Meanwhile, for The Great Gatsby, Turnbull & Asser supplied shirts for the male cast, including the lead actor Robert Redford who played Jay Gatsby.
"Doctor Zhivago" is a sweeping epic romance film released in 1965, directed by David Lean and based on the novel of the same name by Boris Pasternak. The story is set in Russia during World War I and the Russian Revolution and Civil War that followed. The film follows the life of Yuri Zhivago, a physician and poet, whose life is forever changed by the revolution and its aftermath.The film features an all-star cast, including Omar Sharif as Yuri Zhivago and Julie Christie as Lara Antipova, his love interest. At the 38th Academy Awards, "Doctor Zhivago" won five Oscars, including Best Adapted Screenplay, Best Original Score, Best Cinematography, Best Art Direction, and Best Costume Design. It was also nominated for five additional awards, including Best Picture and Best Director. Additionally, the film won five Golden Globe Awards at the 23rd Golden Globe Awards, including Best Motion Picture – Drama and Best Actor – Motion Picture Drama for Omar Sharif.
"Doctor Zhivago" has also been a commercial success, ranking as the eighth highest-grossing film of all time in the US and Canada. It is also one of the top ten highest-grossing films worldwide. Its enduring popularity is reflected in its inclusion on several prestigious rankings. In 1998, it was ranked 39th on the American Film Institute's list of 100 Years… 100 Movies, and the following year it was ranked as the 27th greatest British film of all time by the British Film Institute.
"The Great Gatsby" is a romantic drama film released in 1974, based on the classic 1925 novel of the same name by F. Scott Fitzgerald. The film was directed by Jack Clayton, produced by David Merrick, and written by Francis Ford Coppola. It stars Robert Redford in the lead role of Jay Gatsby, with Mia Farrow, Sam Waterston, Bruce Dern, and Karen Black in supporting roles.
While the film received a mixed reception from critics upon its release, it was a commercial success, grossing over $26 million against a budget of $7 million. The film tells the story of Jay Gatsby, a mysterious millionaire who becomes infatuated with Daisy Buchanan, a married woman from his past. Their rekindled romance leads to tragic consequences as Gatsby's hidden past is revealed. Despite the mixed reception, "The Great Gatsby" has remained a beloved and iconic film over the years, particularly for its stunning visuals, costumes, and score. It has been adapted for film several times, with the most recent version being released in 2013 starring Leonardo DiCaprio as Jay Gatsby.
Turnbull & Asser holds a royal warrant, bestowed in 1980 by Prince Charles. (Now the King charles III)
The King of Charles III has been a long-standing customer of Turnbull & Asser, a British bespoke shirtmaker that has been in operation since 1885. The company is renowned for producing high-quality shirts, suits, and accessories for men, using the finest materials and traditional methods of craftsmanship.Over the years, Prince Charles has been photographed wearing Turnbull & Asser shirts on numerous occasions, and he is known for his appreciation of their attention to detail and quality. In recognition of his patronage, Turnbull & Asser has been granted a Royal Warrant, which means that the company is officially authorized to supply goods to the Royal Family.
In addition to being a customer, King of Charles III has also visited Turnbull & Asser's factory on several occasions. During these visits, he has met with the company's skilled artisans and learned more about the production process for bespoke shirts.the relationship between King of Charles III and Turnbull & Asser is one built on a shared appreciation for traditional craftsmanship and attention to detail. The Prince's patronage has helped to reinforce the company's reputation as a leading maker of bespoke clothing, and his visits to the factory have provided an opportunity to highlight the importance of supporting British manufacturing and traditional skills.
So, What do you think that ?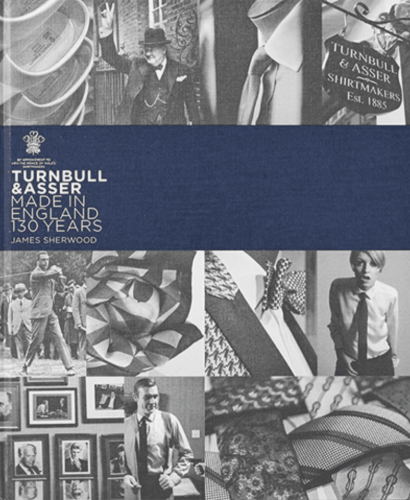 Turnbull & Asser: Made in England 130 Years
James Sherwood,Peter Dawson, Jane Ace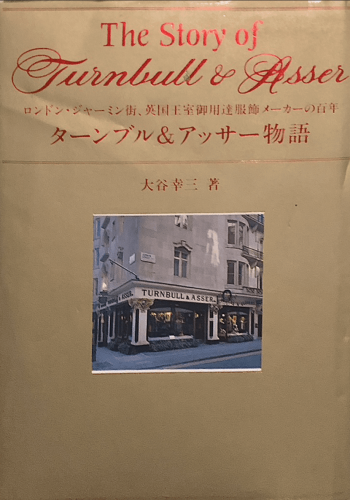 THE STORY OF TURNBULL & ASSER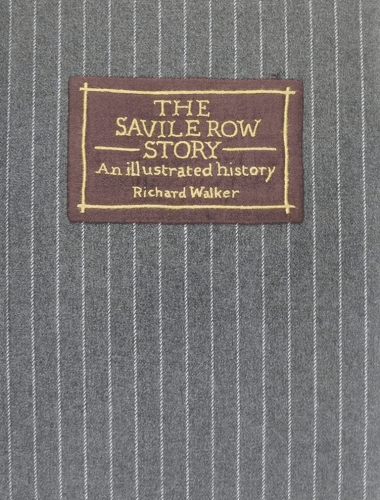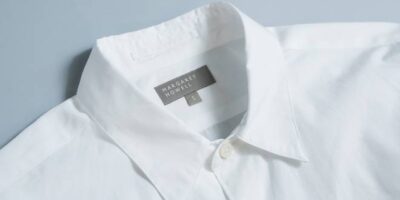 Record Alert! An Early 1957 Speedmaster Ref. 2915-1 Just Sold For Over $3.4 Million At Phillips, Smashing The Record For Most Expensive Omega Watch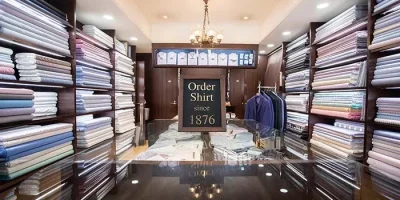 Record Alert! An Early 1957 Speedmaster Ref. 2915-1 Just Sold For Over $3.4 Million At Phillips, Smashing The Record For Most Expensive Omega Watch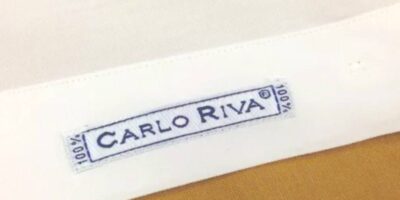 Record Alert! An Early 1957 Speedmaster Ref. 2915-1 Just Sold For Over $3.4 Million At Phillips, Smashing The Record For Most Expensive Omega Watch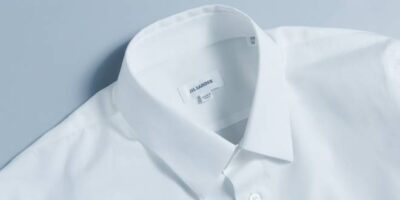 Record Alert! An Early 1957 Speedmaster Ref. 2915-1 Just Sold For Over $3.4 Million At Phillips, Smashing The Record For Most Expensive Omega Watch
Record Alert! An Early 1957 Speedmaster Ref. 2915-1 Just Sold For Over $3.4 Million At Phillips, Smashing The Record For Most Expensive Omega Watch